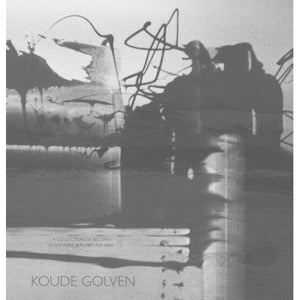 Onderstroom
Various - Koude Golven LP / 2xCD
After long exhaustive work OnderStroom gives birth to Koude Golven: A Collection of Belgian Cold Wave & Punk. This compilation has it all. Belgian's best cold wave cult group (De Brassers), Belgian's biggest new wave export product (Siglo XX), The first cold wave band of Stijn Meuris, a veteran in the Belgian music industry (Gruppenbild), the first punk wave bands (Struggler, Suspects) and many more underground bands to (re-) discover. All bands on the comp are present with their first 7" or 12". This unique document of time gives a view into one of the most intriguing eras of the Belgian music history. Bass Korg Guitar Vocals.

Koude Golven Groups

COMPANY OF STATE debuted on their self-founded label in 1983 with the dubbel single (Dark/Discipline - Danse Remonition/Here as I Am). From the beginning the duo of Rudolf Hecke and Paul Taes raged on guitars with different forms of feedback and distortion, with a top a layer of super cooled vocals. All of this was supported by a heavy rattling rhythmbox. Rudolf Hecke claimed to have been living for years in a blackpainted room listening to tunes of Edith Piaf and Joy Division.
SIGLO XX were one of the more well-known Belgian cold wave bands and hailed from Genk. After the closing of the coal pits, the city of Genk had to deal with unemployment, poverty, drug abuse and violence. It was in this background that Siglo XX was founded. Their first single "The Naked And The Death" set the tone for their further works. Cold new wave, dark basses, moody synths and depressive vocals.
GRUPPENBILD was named after the novel by Heinrich Böhl and was the first band of the versatile Stijn Meuris. In 1980 one of his teachers was bass player Marc Haesendonckx of De Brassers. He went to see a concert by them and was overwhelmed by the power of their music. He decided to start his own band: Gruppenbild. The band produced one of the best and most uknown coldwave seven inches "Tranquility". Stijn Meuris would later become a prominent figure in the Belgian rock scene with bands such as Noordkaap & Monza.
SOVJET WAR existed in a different incarnation as "The Sovjets" in 1979. Under this nameThe band released two 30 minute cassettes (about 1000 copies total) and sold them all. As harder punk music was on its way out around this time, they adapted, changing their name to "Sovjet War" and incorporated poppier influences. Band members are: Rick, Tirre, Leon and Zip.
THE N.U.E stands for The New Underground Entertainment. In existence for a mere two years, they released only one split 12" named "Twogether". The record was recorded and mixed in one day. All three songs by The N.U.E. shine out in their mix of touching vocals, excellent drumming, simple but effective guitarplay & a mighty bass. The band never split up, it just ceased to exist...
DE BRASSERS are one of the most notorious bands in the Belgian new wave/punk history. With their no nonsense attitude they scared the shit out of the local catholic community of Hamont. De Brassers were a local mixture of the Sex Pistols (in the lowest gear) and Joy Division (they always performed a cover version of Joy Division's Shadowplay), combining a criticism of bureaucracy and politics with experiences of psychological and existential tensions. NME described them as "mean and moody modern chaps".
STRUGGLER came from Hamont, the same village as De Brassers. As many other Belgian cold wave bands they started as a punk group.. Their first single Night Fever is now one of the most sought after Belgian 7"s from the new wave era. They recorded one full album with dark punkwave and a few excellent twelve inches..
CULTURAL DECAY existed from 1980-1982. Their sound is a collision of ethereal one-note synth lines and dark post-punk aggression They released only one 7" and one 12". Their first 7" Brave New World is still a cult-classic in Belgium. Post-new wavepunk at its best.
SUSPECTS was founded in 'De Kwiet', a notorious youth café in Hamont. They existed from 1979-1982. Only one 7" was the product of their collaboration. They recorded one more song "Misery" that appeared on the "No Big Business" lp. Frontman Guido Vanbussel is now active in "Joy de Vivre" a Joy Division tribute band.
DAY AFTER hail from Ostend. Together with Phantom Limb, they were one of the few new wave bands to come out of the West of Flanders. With a promiment bass, melodic guitar playing, & quality tight drumming they produced finely crafted and ingenious songs. Presented here are three tracks from their self-released debut mini-lp "Recourse"
The Lp is limited to 500 copies (SOLD OUT) 2xCD comes with 12 page booklet.


Tracklisting V/A Koude Golven LP
A1 Company Of State – Dark 4:09
A2 Siglo XX - Obsession 3:38
A3 Gruppenbild – Tranquility 3:15
A4 Sovjet War - Just A Story 4:29
A5 The N.U.E – Broken Window 4:32
B1 De Brassers – En Toen Was Er Niets Meer 4:39
B2 Struggler – My Heart 3:59
B3 Cultural Decay - Brave New World 3:17
B4 Suspects – This Reality 3:57
B5 Day After - Ticking Away 5:19
Tracklisting V/A Koude Golven 2xCD
1.1 Company Of State – Discipline 2:39
1.2 Company Of State – Dark 4:09
1.3 Company Of State – Jamomine Man 4:33
1.4 Siglo XX - The Naked and The Death 3:28
1.5 Siglo XX – Individuality 4:32
1.6 Siglo XX – Obsession 3:38
1.7 Gruppenbild – Tranquility 3:15
1.8 Gruppenbild – Onbereikbaar 5:02
1.9 Gruppenbild – Maatschappij 5:45
1.10 Sovjet War - It Became A Problem 3:36
1.11 Sovjet War - Guns For Fun 2:37
1.12 Sovjet War – Just A Story 4:29
1.13 The N.U.E – Broken Window 4:32
1.14 The N.U.E – The Days Arrive 3:38
1.15 The N.U.E – A Funeral Birthday 3:39
2.1 De Brassers – Kontrole 4:38
2.2 De Brassers – En Toen Was Er Niets Meer 4:39
2.3 De Brassers – Twijfels 4:16
2.4 Struggler – NIGHT FEVER 4:42
2.5 Struggler – MY HEART 3:56
2.6 Cultural Decay - Brave New World 3:17
2.7 Cultural Decay  - End Of The Corridor 4:07
2.8 Suspects – This Reality 3:57
2.9 Suspects – Bombs 4:37
2.10 Day After - Ticking Away 5:19
2.11 Day After – Civilization 4:12
2.12 Day After - Desert Of Time 6:05
---
More from this collection