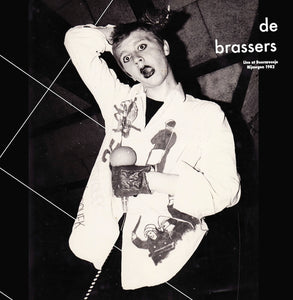 Onderstroom
De Brassers - Live At Doornroosje 1982 LP
Recordings of a stand-out gig at Doornroosje in Nijmegen (NL). By 1982 De Brassers had been playing in almost every small public space or squad in the area and logically they had gathered a cult following. Sporadicly they also performed in The Netherlands. Doornroosje was / is the club where underground music groups performed before they became well-known, especially the 80s were an interesting period with Joy Division, Nick Cave and many local punk / new wave bands hitting the stage.
Here we find De Brassers at their peak of their powers performing "Pijn", "They Wanted Us Away", "En Toen Was Er Niets Meer", the Joy Division cover "Shadowplay" and 6 other raw punk / synth / wave tracks. Live they sound even more real and raw!
De Brassers are one of the most notorious bands in the Belgian new wave/punk history. With their no nonsense attitude they scared the shit out of the local catholic community of Hamont. De Brassers were a local mixture of the Sex Pistols (in the lowest gear) and Joy Division (they always performed a cover version of Joy Division's Shadowplay), combining a criticism of bureaucracy and politics with experiences of psychological and existential tensions. The doomed sound they produced tells a lot about the dark atmosphere of the late seventies and early eighties: the fear of atomic bombs, cold war pessimism, police violence against squatters, the first cases of AIDS, and the grim years of Reagan & Thatcher.  

Tracklisting
A1 Rise & Fall                            
A2 Pijn                                      
A3 Last Time                            
A4 They Wanted Us Away                  
A5 Instrumental                       
B1 Sick In Your Mind                   
B2 The Scream                           
B3 En Toen Was Er Niets Meer    
B4 Shadowplay                
Notes
° Matt-varnished cover sleeve
° Pressed at Handle With Care
° Mastered by Anders Peterson
° Edition of 300 copies


---
More from this collection