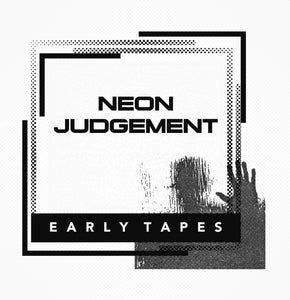 Onderstroom
The Neon Judgement - Early Tapes CD
Early Tapes compromises the first recordings of the duo Dirk Da Davo and TB Frank, and is now, for the first time, available on CD!

The Neon Judgement was formed in 1980/1981. Instantly they self-released two cassettes. With a limited amount of electronic instruments, they recorded their debut: "Suffering". The first version of their classic track "Factory Walk" is on this tape, a much more raw version than the one which would later become an underground clubhit. "Sweet Revenge" and "Schyzophrenic Freddy" remind of Suicide and the almost claustrophobic sounding tracks "Harem" and "Army Green (WOIII) are in the veign of the industrial music of Cabaret Voltaire or even Throbbing Gristle.

Their second cassette "TV Treated" is certainly as good. "Sister Sue" and "On My Own" are ready to eat tracks for fans of Front 242 en Luc Van Acker. The remastered versions of these rare cassettes are now compiled on "Early Tapes", an overview of TNJ 1980/1981. The first two bonus tracks, recorded live @ Arno's in Leuven, give us an insight into the live performances of The Neon Judgement and the third extra track let's us meet the solo project of Dirk Da Davo with the track "Sexhead".

This CD is limited to 1000 copies. The accompanying booklet includes song lyrics and rare photo's from the TNJ archive.
Notes

° Digipack CD
° 8pp booklet
° Mastering by Dancedelic
° Three bonus tracks
° Design by Eloise Leigh and OnderStroom

For a digital version of this release go here: http://www.dancedelicd.com/

1. Factory Walk
2. Sweet Revenge
3. Harem
4. The Machine
5. Army Green (WOIII)
6. Shyzofrenic Freddy
7. Tv Treated 
8. Stay Mad
9. Sister Sue
10. On My Own
11. Concrete (Vegas) _ Recorded live @ Arnoz June. 25th 1982
12. Schyzofrenic Freddy _ Recorded live @ Arnoz June. 25th 1982
13. Sexhead _ From the Dirk Da Davo 12", recorded 1987
---
More from this collection