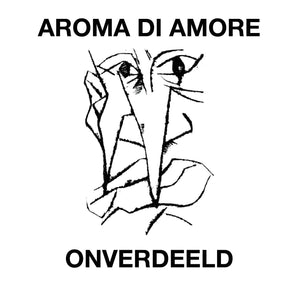 Onderstroom
Aroma Di Amore - Onverdeeld 2xCD
Ignored by the mass, loved by the underground, never simple always unique. Aroma Di Amore are one of the greatest cult groups of Belgium and now after 5 years of silence around the band, it's time to write another chapter in the big Aroma-book. On their first release in 16 years, the history of the band is being captured in 47 tracks.
Carried by a deep bass, typical cold new wave drums, biting guitar riffs and a shamanic voice they make about the most original music of their generation. Aroma di Amore makes subtle as well as raw songs with the occasional flavor of absolute madness. Through the years, bass-players, a saxophonist and lots of other musicians come and go. The core of the band consists of Fred Angst on guitar, Lo Meulen on bass & Elvis Peeters behind the mic.
The double disc set "Onverdeeld" is an anthology of more than a quarter century of musical output. The two discs contain almost all of the tracks that ever appeared on LP, completed by a few live-tracks and 4 unreleased songs. The booklet of 16 pages immerses you in the smell of love. With pictures by Eric Didden, an extensive biography and the extraordinary lyrics by Elvis Peeters.
Tracklist
1-1 Doe De Maffia
1-2 Gorilla, Dans De Samba
1-3 Isabelle Avondrood
1-4 Dobberman
1-5 Het Gesticht
1-6 De Schaarmeester
1-7 Koning Der Belgen
1-8 De Radio Is Gek Geworden
1-9 Lauwe Oorlog
1-10 Wir Haben Es Nicht Gewusst
1-11 Een Mens Met Een Mes
1-12 Voor De Dood
1-13 't Is De Liefde
1-14 Een Hoofd In De Supermarkt
1-15 Plaatsje Onder De Zon
1-16 De Aarzel
1-17 El Macho
1-18 Overleven
1-19 Moeder Gaat Neer
1-20 Zonder Omzien
1-21 Mama Is Sterker
1-22 Koekoek In De Stad
1-23 Zij Is Blij
1-24 In Jouw Maag
1-25 Niemand Staat Te Wachten
2-1 Rood Vlees
2-2 Alles Wordt Zand
2-3 De Koortsdanser
2-4 Ik Schaam Haar
2-5 Tanden
2-6 NV Verdriet
2-7 Fe
2-8 Een Taal Is Een Stripverhaal
2-9 Naaldhak
2-10 De Goede God Is Een Dode God
2-11 Meisje Zijn
2-12 Mot
2-13 Grijs Geld
2-14 M/V
2-15 Sporen Van Lisa
2-16 Ik Splits Jou
2-17 De Mogren
2-18 Stadsindiaan
2-19 Fall
2-20 Meisje Van Milwaukee
2-21 IJstijd
2-22 Spijt
Includes a 16 page booklet with pictures, lyrics and an extensive biography
---
More from this collection