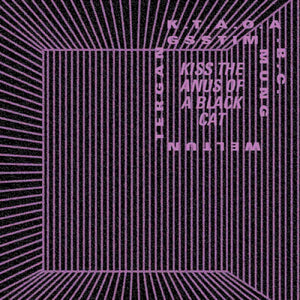 Onderstroom
Kiss The Anus Of A Black Cat - Weltuntergangsstimmung LP
After several albums on toplabels Kraak and Conspiracy, 
KTAOABC
 releases their fifth album WELTUNTERGANGSSTIMMUNG on Zeal and OnderStroom records.The new record isn't the drone folk album you might expect from the band. Their newest shows us a whole new and different side. 
Frontman Stef Heeren. recorded the songs for 'Weltuntergangsstimmung' with an old drumm machine, analogue synthesizers and guitar. And 
An Pierlé
 adds wonderful backing vocals on a few songs. Kiss the Anus still is the hypnotising and apocalyptical band, but transformed overnight into a new new wave band.

Edition of 500.


Tracklist
A1 My Word As Gospel 5:48
A2 Define π 4:37
A3 The Shadows Are You 3:30
A4 Ruins 5:05
B1 Triple Fall 3:10
B2 Shake Off Your Dreams 5:43
B3 Let Things Drift 4:54
B4 Weltuntergangsstimmung 4:08
---
More from this collection